De naam Tom Clancy is inmiddels een echt begrip in de videogame wereld. Zijn naam staat vastgeplakt aan o.a de populaire Rainbow Six franchise de Ghost Recon franchise, en natuurlijk niet te vergeten de Splinter Cell franchise. Wie was Tom Clancy eigenlijk precies? Nou als je dat wil weten ben je hier momenteel aan het verkeerde adres en moet je maar even Wikipedia checken, want wij zijn hier voor The Division!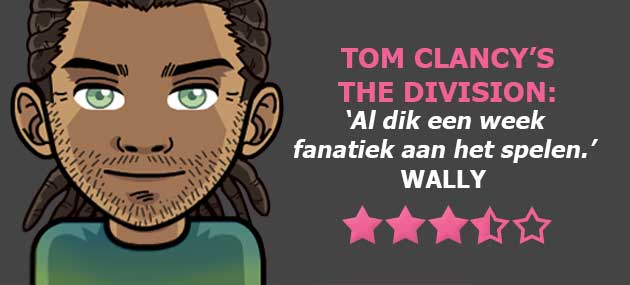 Verhaal: Na de uitbraak van een levensgevaarlijk virus genaamd "the dollar bill flu" is alles zo een beetje flink naar de klote gegaan. De straten van New York zijn met spoed geëvacueerd en voor niemand meer veilig te bewandelen. Wanneer er niks anders meer op zit word de super geheime, covert, top secret, on the down low, nobody needs to know afdeling ingeschakeld genaamd, De Afdeling! Oftewel The Division! Het is aan hun om de orde op de straten van New York weer te herstellen. Hoe weet je dat ze zo top secret zijn? Omdat ze oranje-lichtgevende horloges dragen natuurlijk!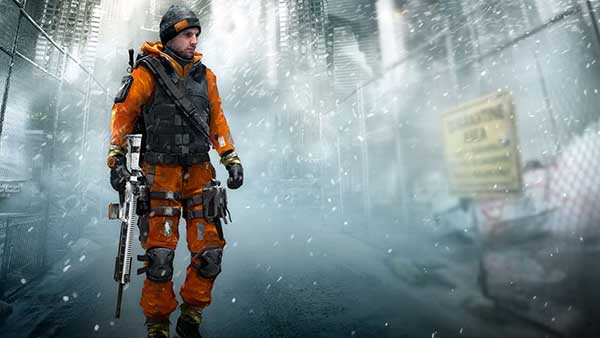 Het super geheime oranje-lichtgevende horloge zie je aan zijn rechterhand.
Presentatie: Herinner je je de allereerste gameplay beelden van The Division nog? Dat ongeveer 25 minuten durende stukje 60fps gameplay gold wat te mooi leek om waar te zijn? Dat was dus te te mooi om waar te zijn! Helaas moeten we wederom genoegen nemen met een framerate van 30 frames per seconde en graphics die er niet veel beter uit zien dan die van een top PS3 game zoals Uncharted of The Last Of Us.
Tom Clancy's The Division trailer
Het is duidelijk dat de game designers hebben gekozen voor kwantiteit over kwaliteit, door ons een aardig gedetailleerd stukje Manhattan te geven als playground om in rond te wandelen. We krijgen veel gebouwen en ondergrondse locaties om te betreden en daar een groot aantal van de missies uit te voeren. Zo nu en dan liep ik wel rond in een metro of een riolering en als ik om me heen keek dacht ik bij mezelf Ben ik hier niet eerder geweest? Dit lijkt verdacht veel op de riolering aan de andere kant van New York……hmmm, lets kill some people!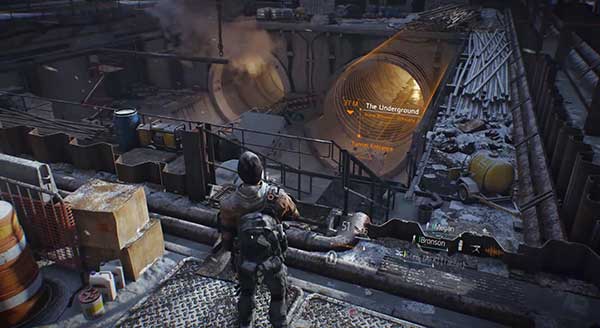 Gameplay: Zo een beetje alles wat The Division ons te bieden heeft lijkt gewoon op textbook, been there done that, seen it before, move along people nothing new to see here. Van de gameplay tot aan de RPG elementen van de game is er gewoon niks nieuws, niks wat je niet al eerder heb gezien in een andere third person cover shooter of RPG wat dat betreft. De missies en zij-missies bieden ook weinig tot geen variatie en het komt allemaal neer op dezelfde objectives en simpelweg iedere vijand uitroeien die je tegenkomt. Dat te hebben gezegd moet ik wel toegeven dat de game ontzettend lekker speelt en ondanks dat het RPG gedeelte niks nieuws te bieden heeft vormt het een leuke combinatie met een third person shooter en is het upgraden en het bijhouden van je inventory een verslavend element van de game. Bereid je voor op lange wandelingen en/of heel veel fast travelen. De honderden geparkeerde autos staan er puur voor het zoeken van dekking en voor de sier. 
Gameplay Tom Clancy's The Division
Game modes zoals bijvoorbeeld team deathmatch ontbreken, en je ontmoet alleen andere spelers in de safe houses van New York. In het hartje van New York bevind zich "The dark zone" een plek voor het vinden van sterke wapens en gear. Je kan alleen niet simpelweg The Dark Zone inwandelen en met je gevonden gear weer uitwandelen. Alle gevonden spullen moet je laten extracten en hier word de gameplay enigszins interessant. In the dark zone is het mogelijk om andere spelers te vermoorden en hun van hun gear te ontzien. Het klinkt interessanter dan het is. Ik hoop dat de komst van wat vette DLC de gameplay elementen rondom the dark zone flink doen uitbreiden. Nadat je alles hebt gedaan wat er te doen valt in the division, lijkt the dark zone de enige reden om de game nog op te starten, maar in de huidige staat van the dark zone zie ik dat niet vaak gebeuren.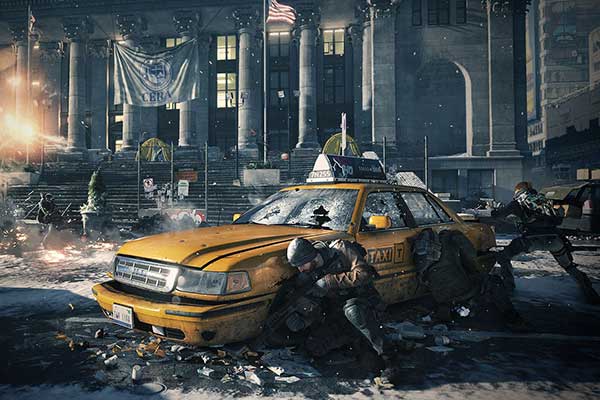 Conclusie: Ik ben al dik een week lang aardig fanatiek aan het spelen, maar ik moet je eerlijk bekennen dat 98% van al mijn speelsessies met een co-op partner zijn geweest. Solo door de aanzienlijk lege straten van New York wandelen is voor mij niet bepaald aantrekkelijk. Een online verbinding is "een must" anders doet de game het simpelweg gewoon niet, dus je bent gewaarschuwd! Mijn typische manier van spelen is lekker voor alles de tijd nemen en dat lukt met The Divison prima. Persoonlijk heb ik de perfecte combinatie gevonden tussen het doen van de side missions en de main missions. Als ik alles gedaan heb wat er te doen valt word voor mij de vraag, hoe lang blijft dit nog leuk?
The Division krijgt van mij 3 en een halve ster.